ローカル環境:local by Flywheel ( https://local.getflywheel.com/ )
本番環境:Cloudways ( https://www.cloudways.com/en/ )

・ Wordmove : https://github.com/welaika/wordmove
ステージング・プロダクション環境とローカル環境を同期できる gem
・ WP-CLI: https://wp-cli.org/ja/
WordPress管理をいろいろコマンド操作できる(local by Flywheel についてる)
今回は、local by Flywheel でローカル環境を整え、Cloudways で本番環境を運営しているパターンです。

$ gem install wordmove


$ cd /Users/~hoge~/app/public

wordpress 本体直下に movefile.yml を作成

$ wordmove init

(作られているのを確認)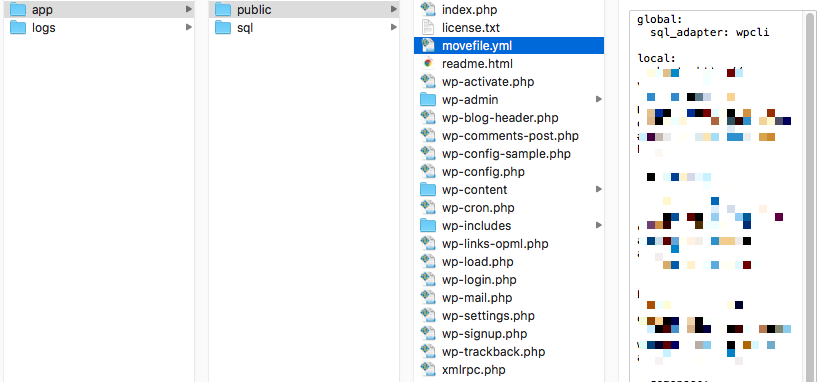 Flywheel Database・Site Seup タブ箇所を参考に movefile.yml の設定を確認
localのMysqlに接続できなくてつまずいたところ( local database 設定箇所の host は Flywheel の DATABASEタブ箇所の Remote Host IP に変更し、Remote Portの番号をport設定に追加してあげたら接続でけた )

 movefile.yml
 
 // 開発環境設定(ローカル)
 local:
   vhost: "http://hoge.local"
   wordpress_path: "/Users/~hoge~/app/public" # use an absolute path here (絶対パス)
   
   database:
     name: "database_name"
     user: "user"
     password: "password"
     host: "0.0.0.0" # Remote Host IP (リモートホストのIP)
     port: "0000" # Remote Port number (リモートポートの番号)
     charset: "utf8"
     mysqldump_options: "--column-statistics=0" # Mysql バージョン 8系からエラーが出るので追加
     
 // 本番環境設定(プロダクション)
 production:
   vhost: "http://hoge.com"
   wordpress_path: "/var/www/your_site" # use an absolute path here (絶対パス)
 
   database:
     name: "database_name"
     user: "user"
     password: "password"
     host: "host"
     charset: "utf8"
     port: 3306 # Use just in case you have exotic server config
     # mysqldump_options: '--max_allowed_packet=1G' # Only available if using SSH
     # mysql_options: '--protocol=TCP' # mysql command is used to import db
  
   ssh:
     host: "host"
     user: "user"
     port: 00
    

本番環境の確認
cloudways hostの確認場所 – servers page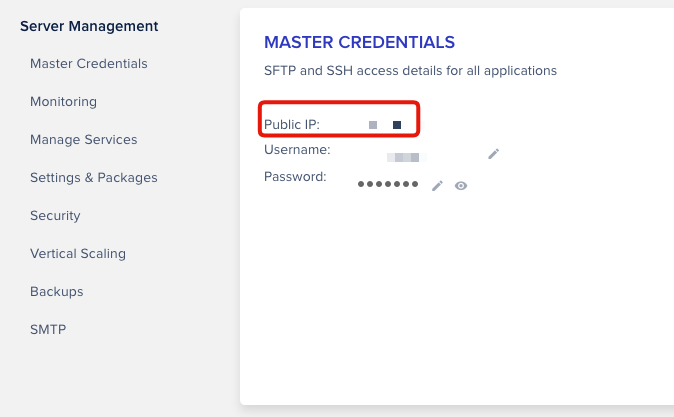 cloudways databaseの確認場所 hostもあった – application page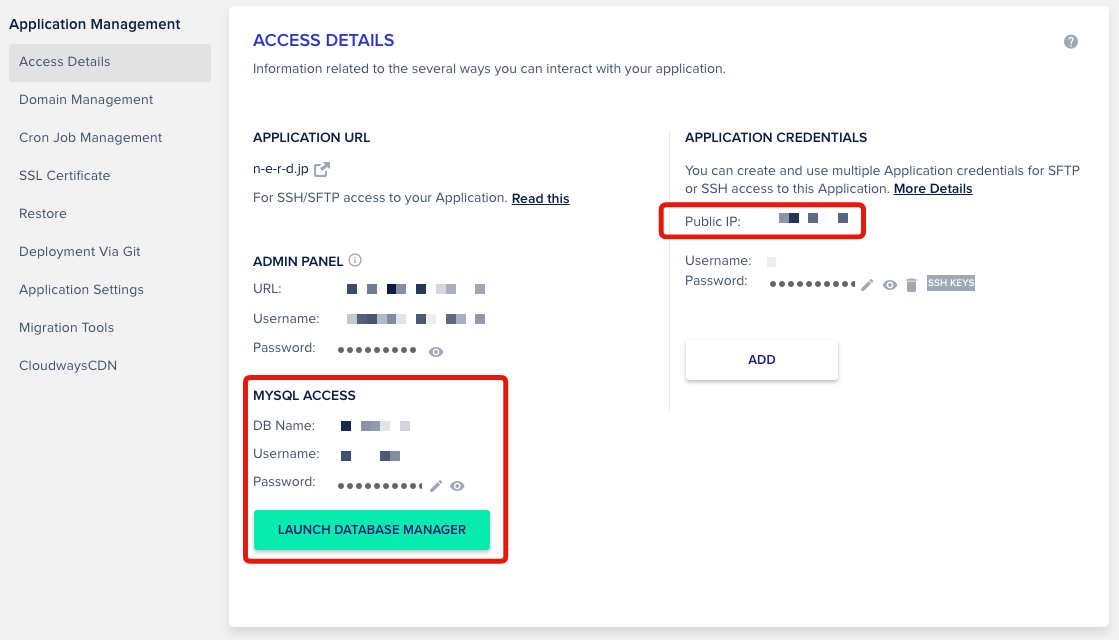 sshの設定
ここらへんを参考に
【mac】SSH鍵認証でサーバに接続する(初級編)
http://cameong.hatenablog.com/entry/2017/02/17/011429
設定を完了させたらいよいよ wordmove!
movefile.yml を置いたローカルのwordpress本体ディレクトリに移動

$ cd /Users/~hoge~/app/public

wordmove cmd

 // オプションを付けて各種pull・pushする
 
 // 本番環境からデータベースやアップロードファイルを取得(プル)
 $ wordmove pull -d -u
 
 // ローカルから本番環境にテーマをアップロード(プッシュ)
 $ wordmove push -t
 
 // pull・push オプション( wordmove pull -d だとDBのみを取得 )
 Options:
   -w, [--wordpress], [--no-wordpress]    
   -u, [--uploads], [--no-uploads]        
   -t, [--themes], [--no-themes]          
   -p, [--plugins], [--no-plugins]        
   -m, [--mu-plugins], [--no-mu-plugins]  
   -l, [--languages], [--no-languages]    
   -d, [--db], [--no-db]                  
   -v, [--verbose], [--no-verbose]        
   -s, [--simulate], [--no-simulate]      
   -e, [--environment=ENVIRONMENT]        
   -c, [--config=CONFIG]                  
       [--debug], [--no-debug]            
       [--no-adapt], [--no-no-adapt]      
       [--all], [--no-all] 
 
 
 // ヘルプ
 $ wordmove help
 Commands:
   wordmove --version, -v    # Print the version
   wordmove doctor           # Do some local configuration and environment checks
   wordmove help [TASK]      # Describe available tasks or one specific task
   wordmove init             # Generates a brand new movefile.yml
   wordmove pull             # Pulls WP data from remote host to the local machine
   wordmove push             # Pushes WP data from local machine to remote host

と思ったらエラーが出たんだよ。

Error: Error establishing a database connection.This either means that the username and password information in your `wp-config.php`file is incorrect or we can't contact the database server at `localhost`. This could mean your host's database server is down.

wp-config.php の DB_HOST を movefile.yml に設定した remotehost とremote post に変更したらやっとこいけました。

/** MySQL hostname */
define( 'DB_HOST', '0.0.0.0:0000' );

でけたー!!本番環境との同期を確認でけたー!
今回は本番からデータベースのデータをpullしました。
コマンド間違ったりしないように、バッチファイルを作ってみようとおもいます!
うまくいかない時は

$ wordmove doctor

かわいい… 5セントw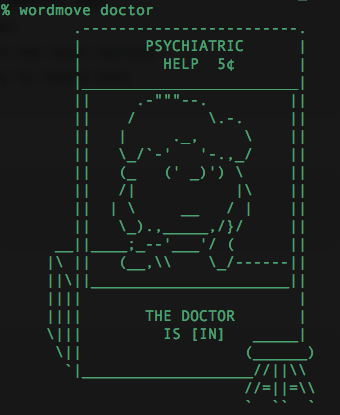 エラーもわかりやすーい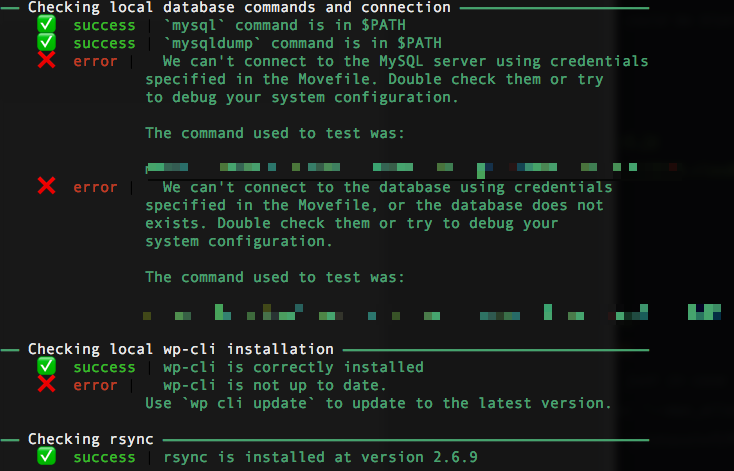 全て問題ないとこんな感じに success!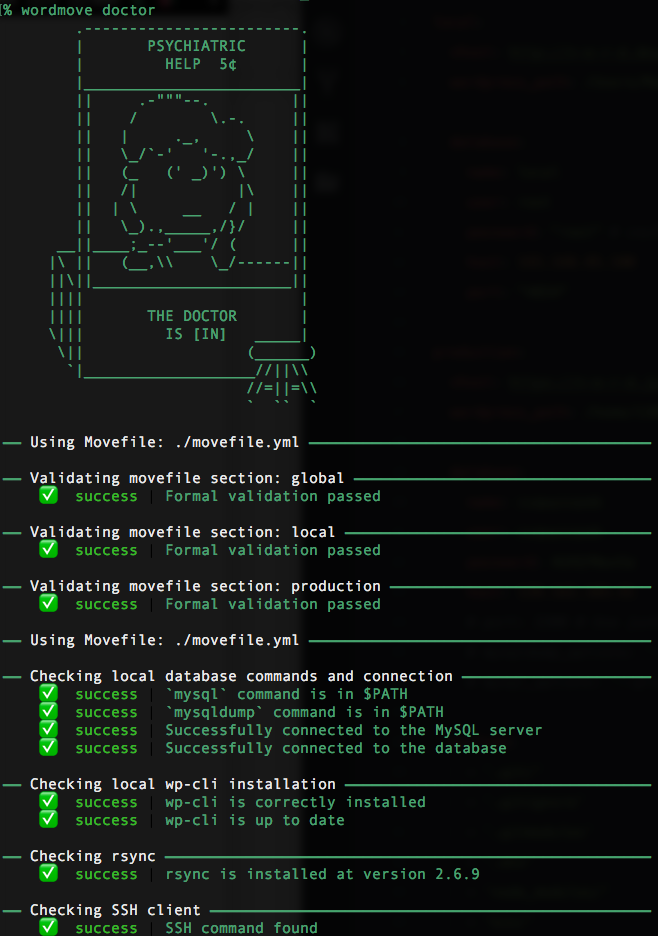 参考資料 ーーーーーーーーーーーーーーー
デフォルト movifile.yml
https://github.com/welaika/wordmove
参考POST:Wordmove の正しい設定方法
https://qiita.com/miya0001/items/9217140161216bbefc19